Here's a quick and easy Thanksgiving game that we play to review shapes and colors.  (Do I overuse "quick and easy"?  I'm sensing a theme to my lesson planning!)  I tape cards 8 different bales of hay to my easel, like this:
While the students close their eyes, I hide the turkey under one of the cards.  Then, we all recite this mini-poem:
They take turns guessing where the turkey is hiding.  "Let's look under the red circle," "Let's look under the purple triangle," etc.  It's very exciting to find him, of course!
I like to follow this game with another one of our favorite turkey books, Run, Turkey, Run by Diane Mayr.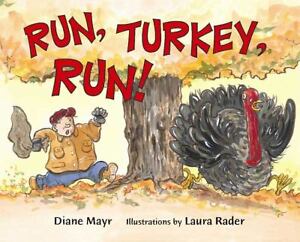 In this story, Turkey tries to act like the other farm animals– rolling in the mud with the pigs, swimming with the ducks, eating in the barn with the horses– so the farmer will not notice him.  Do you think his plan works?
Download your copy of "Turkey in the Hay" here:
It is just one of the 8 awesome Circle Time lessons included in our Thanksgiving unit.
Be sure to follow our Thanksgiving Pinterest board for more great ideas.
Follow Play to Learn Preschool's board Holiday: Thanksgiving on Pinterest.
Download Now!
Subscribe to receive a FREE dramatic play printable set, as well as our latest content by email.